In this blog post, you are going to see MPPSC 2017 Cut Off Marks list, which is released by commission recently.
इस ब्लॉग पोस्ट के द्वारा आप राज्य सेवा प्रारंभिक परीक्षा 2017 की Cut Off Marks लिस्ट देख सकते है |
Madhya Pradesh Public Service Commission (MPPSC) had conducted the Civil Service Examination (Prelims) 2017 exam on 12th February 2017 for 500+ posts. Recently commission has announced the official cut off marks list for all the categories. As compared with the last year Prelims paper, this year paper was a little bit tough, that's why cut off marks have also decreased.
You can also Solve MPPSC 2017 paper on our website. If you required any other info or resource, you can tell us in the comment box.
So, here is the Cut off Marks list.
Category
Gender
Minimum Cutoff Marks
UR
Male + Female
138
Female
126
SC
Male + Female
122
Female
110
ST
Male + Female
110
Female
100
OBC
Male + Female
132
Female
118
PH
OH
Male + Female
118
Female
118
VH
Male + Female
92
Female
92
HH
Male + Female
66
Female
66
Ex-Serviceman
UR Ex Serviceman
80
SC Ex Serviceman
60
ST Ex Serviceman
62
OBC Ex Serviceman
60
Note: 
Male + Female – Male candidates from all over India and Female candidates not belonging to Madhya Pradesh.
Female – Candidates with a domicile status of Madhya Pradesh.
Here is the official cut off marks list announced by Madhya Pradesh Public Service Commission (MPPSC).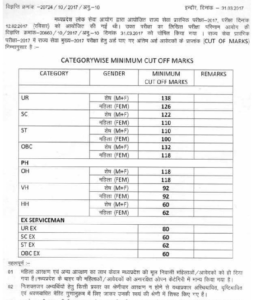 So, Now you can analyse your performance based upon this list. After sometime, we will publish the analysis of last three year Prelims cut off marks. From that, you will see the detailed variation in cutoff marks over the years. 
We are trying to create this website as an One Stop Destination for all MPPSC aspirants. So, If you have any query, you can  leave it in the comment box.
If you want to download, MPPSC Syllabus, Click below
Disclaimer : The Source of this Information is the Official MPPSC website. We are not responsible for any mistake. We are trying to provide you the most authenticate information related to MPPSC Exam. Still, If you have any problem with content, you can always contact us at [email protected]